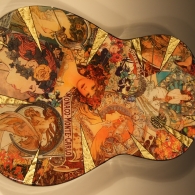 We got back from Floyd Fest Music Festival and we are featured in the Richmond Times Dispatch article on Top Richmond Artists in the Sunday July 29th Flair. Including Matt King, Heidi Trepanier, and Jim Bumgardner.
RICHMOND, Va. –A band played outside Artemis Gallery as dusk set on Richmond's Main Street.
People were standing outside the art opening, but there was one character you
couldn't miss. John T. Crutchfield was wearing large sunglasses with metallic
stripes across the lenses (he made them himself), a straw hat and a scarf.
Crutchfield, the owner of Artemis Gallery, specializes in metallic art graphics. The lights
in the gallery sparkle on his customized musical instruments with metallic features and
nostalgic images. His work has been featured on "The Tonight Show with Jay Leno" and in Vogue.
He participates in art and music festivals and has applied his art to a $10,000 guitar for musician
Robert Francis, who toured with singer Jason Mraz. Crutchfield's art also has appeared at
the Amsterdam Whitney Gallery in New York.
Crutchfield started putting customized designs on instruments after a musician gave him a broken guitar.
But his style extends beyond instruments and includes jewelry, clocks, sculptures and more.
Ever since he was 5, art has been a part of his life. His parents wanted him to be a scientist.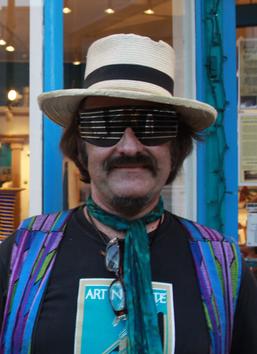 "I pretended to be a scientist," Crutchfield said. "I got out of school and did artwork. Follow your heart."