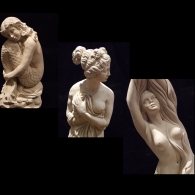 Dear Art Collectors,writers and connoisseurs;
It is with great pleasure That Artemis Gallery Celebrates the month of February with the opening of ATHENAEUM. While others celebrate Valentines, Artemis goes back to the Ancient goddesses of Venus and Aphrodite to capture in pure white statues carved from Plaster of Paris the eternal longing for Perfection and beauty in the female form.
While traveling and showing his own art works(metallic art graphics) at the Miami Beach Art Deco Arts Festival attended by over 100,000 people; Artemis Gallery owner John Teal Crutchfield, found the statues of Loraine Bennett directly across from the palatial home of Gianni Versace on Ocean Terrace Boulevard in Miami Beach, displayed humbly right on the sidewalk for all to see!!
Almost Instantly the idea accrued to have a Special Showing of her works at the Artemis Gallery in Richmond Va for the month of February! It seemed a natural to have these Greco-Mediterranean inspired Sculptures at Artemis Gallery.So after long negotiations the Arrangements were made to have a dozen of these objects specially shipped to Richmond in time for the grand opening on February 6th.
As a self taught artist Lorraine's work has a direct immediacy and emotional impact that brings the viewer to wonder about the great past sculptures of Antiquity including the long lost art of Atlantis!!
All this being said I think it would be well worth it to visit the Artemis Gallery for its inaugural exhibition Athenaeum held on
February 6th from 5 to 9pm
at Artemis Gallery
1601 West Main st