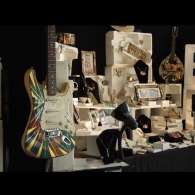 Dear Friends Of Music & Arts;
The time has come for the Richmond Folk Festival again this weekend!
Not only great Music on 5 stages from all around the world but great Food and Crafts!
Don't forget to visit the Crafts Tents and see the Exotic collections of Metallic Art Graphics!
A mixed media art object exhibit as seen at previous shows including;
the Philadelphia Folk Festival ;The Newport Jazz Fest RI;&Lincoln Center Ny!
Come View handmade graphic Guitars,Mandolins,Frames,Sculptures,Clocks and Metal Accessories.
Come see the Models wear them and try a few on yourself;
We are going to be at the Folk Festival Exhibiting in the Arts & Crafts Tent for the 3rd year
The Awsome Metallic Art Graphics works in Fiberglass & Brass;Of John Teal Crutchfield.
Near The Civil War Museum Arts & Crafts Tents!
Enjoy the total experience!