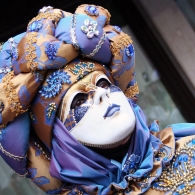 An interactive art show that celebrates the long standing tradition starting in Venice of the "Carnival" and continued as Mardi Gras in New Orleans & throughout the Caribbean and Brazil!!
On Saturday Feb 27th during an intensive studio jam session, artists will congregate to create outrageous colorful masks with materials spontaneously at hand!
The creation of Carnival masks traces back to the first celebrations in 1296 in the Piazza San Marco. The Duke of Venice declared the day before Lent an official holiday. Initially it began as a celebration of the city-state Venice. Over time this celebration gradually transformed into an embrace of elaborate costumes and masks. During the festival, people took part in extensive drinking, eating, dancing, and general debauchery. The festival began attracting tourist from all over Europe and as a result was extended to 3 full weeks. It attracted up to 1 million people until 1815 when it became outlawed by the Austrian Occupation and through the second World War under Mussolini.
In the 1950s the Festival of Masks Carnival was reinstated. The city fathers realized that since the Festival of Masks Carnival generated so much tourism, Venice would eventually go bankrupt without it.
Today it is celebrated by over 10 million people worldwide from New Orleans (Mardi Gras) to Carnival in Rio de Janiero, Brazil and all through the carribean Islands.
This First Friday, March 5th 2010, we at Artemis Gallery will be celebrating by showcasing elaborate handmade masks inspired by the event that started it all, the Venice Carnival! These masks were created by our own artists during a music and art interactive session at the Metallic Art Graphics Studio. All proceeds will be contributed to the Haiti Relief Fund!
To view images from the show please click the following link
http://www.facebook.com/album.php?aid=51050&id=1069994377&l=d949047dd7