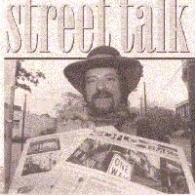 Street Talk
John Crutchfield hopes Richmonders soon will think of the West Main Street corridor as SoFlo south of Floyd not unlike the avantgarde Solfo district in New York.
When you think Main Street, chances are New York and London's trendy SoHo district don't spring to mind.
But that's exactly the cachet gallery owners hope to lasso with the first issue of the SoFlo Times, a publication that
aims to get Richmonders up to speed with hip businesses, shops and galleries doting Main Street south of Floyd from Harrison to the Boulevard.
"It is sort of a heads up to the area in New York. We have art galleries here and places to eat and shop and other activities along Main Street and we kind of wanted to imply that we have that same flow of engery," says Jenni Plavnicks, design and layout for the eight-page quarterly that will be distributed to coincide with four upcoming Main Street Art Walks." "At our meeting in January we decided we were sick of the same-old same-old. We wanted something to show we were different galleries and that Main Street is like a coral reef with all these tiny individual fish," says John Crutchfield of Artemis Gallery, Who directs the publication of the SoFlo Times. Crutchfield says that so far, the concept of a directory-style newsletter has led to an explosion of suport. "We were offered all kinds of advertising, but it's not at all about grabbing money, It's been an effort of philanthropy up'til now," says Crutchfield adding, "I'm in the hole $750-$1,500 if you count my time and labor."
Seemingly, already Crutchfield's investment has paid off. Out of the blue the group sent a copy of the SoFlo Times to a California cable TV channel. As a result, a crew from HGTV is set to shoot two segments here for the cable home-and-garden network. According to Crutchfield, shooting starts May 2 at Artemis Gallery on West Main Street – home to Metallic Art Graphics – and Billy bread sculpture on South Allen Avenue. "To be found like this is candy from the sky," says Crutchfield "We had no idea they'd take our magazine seriously. We're going to get copies and tell everyone about it. It's the first time national media has come to Main Street."
Brandon Walters
Reprinted with Permission of Style Weekly