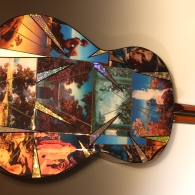 While exhibiting at the 10 annual Chantilly-Dulles Sugarloaf Art & Crafts exhibit in Washington Dc ; John was comissioned to do another special one of a kind Graphics Guitar featuring Maxfield Parrish images and graphics. Over the years Donna Hillier has been collecting art and following the works of John T Crutchfield and decided this […]
While exhibiting at the 10 annual Chantilly-Dulles Sugarloaf Art & Crafts exhibit in Washington Dc ;
John was comissioned to do another special one of a kind Graphics Guitar
featuring Maxfield Parrish images and graphics.
Over the years Donna Hillier has been collecting art and following the works of John T Crutchfield and decided this was the year to have him make this special collectors edition piece.
These artworks take over a month to make and we hope to finish it by the end of January!
www.artemisgalleryrichmond.com
https://www.facebook.com/media/set/?set=a.2670148267503.134103.1069994377&type=1&l=ff57288ccb