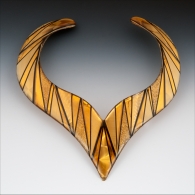 On June 7th Artemis gallery will present VIVA #2 a Fashion Photo shoot & Show  featuring the exotic accessories of 1.Sylvia Harwin of California who does Anodized Aluminum Jewelry with high color metal contrasts 7 sculptural forms   2. Jim & Tori Mullan of Mullanium Recycled Metal parts made with Organic Plant & Animal Themes 3.John […]
On June 7th Artemis gallery will present VIVA #2 a Fashion Photo shoot & Show
 featuring the exotic accessories of 1.Sylvia Harwin of California who does Anodized Aluminum Jewelry with high color metal contrasts 7 sculptural forms   2. Jim & Tori Mullan of Mullanium Recycled Metal parts made with Organic Plant & Animal Themes
3.John Teal Crutchfield of Metallic Art Graphics a unique Graphic Arts technique applied to brass with art history Themes!

Also featured at the show will be the Fashion Photography skills of Keith Deringer and Sports Cars by car restoration specialist Ken Knehr.
Artemis Gallery
1601 W Main Street
June 7th
5pm-10pm
Sylvie Harwin is a California artist who works in anodized aluminum-
a colorization process converting silver aluminum into multiple colors
through electrolysis. Sylvie makes a widely distributed line of "high tech"
jewelry that has been seen in many films such as Star Trek. Her work is in
private collections throughout the United States.
Jim and Tori Mullan of Mullanium work using recycled metal parts
to create jewelry with organic plant and animal themes. The couple
combined their individual talents and formed a partnership in work and
life. Their fascination with birds, nature, and antiques is still present
today and their vast collection of vintage hardware, bird carvings, and
watches fill up a 3300 square foot studio in Pompano Beach, Florida.
Jim and Tori's collections can be found in over 1,000 galleries, museum
stores and specialty stores worldwide.
John Teal Crutchfield of Metallic Art Graphics works using a unique
graphics art technique which he applies to a high quality brass base
and casts in a dura
ble clear fiberglass encasement. The purpose of his
designs is to evoke the inner desires of one wishing to escape from the
present to explore the past civilizations of ancient Egypt, Greece, and
Persia. To achieve these results, John draws on his influences from his
studies in Europe. His work has been photographed, written about, and
showcased in several galleries including the Amsterdam Whitney Gallery
in New York and the Artemis Gallery in Richmond, VA.
The show will take place at
Artemis Gallery
1601 W Main Street
June 7th, 2013
5pm-10pm