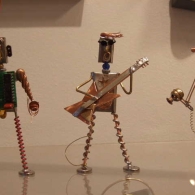 Artemis Gallery celebrates its 12th Annual Holiday Mixed Media Show First Friday December 4th from 5.00pm to 10.00 pm The gallery will be featuring the work of artists from all over the Metro area and across the Nation. Included in the show are works of art in ceramics, metal, wood, glass, jewelry, hand made clothing […]
Artemis Gallery celebrates its 12th Annual Holiday Mixed Media Show
First Friday December 4th from 5.00pm to 10.00 pm
The gallery will be featuring the work of artists from all over the Metro area and across the Nation.
Included in the show are works of art in ceramics, metal, wood, glass, jewelry, hand made clothing and accessories by several new local artists!
This year's event will feature a Mini Fashion Show of Wearable Art organized by Holly Sullivan
and live Accoustic Guitar music by Natalie Quick!
At our Holiday Mixed Media Show, not only will there be a 10 % discount on December 4th if you buy more than one piece,
Come join us in our celebration of art on First Friday, December 4th, from 5pm-10pm at 1601 W. Main Street.
This event is free! Please call 804.353.2676 for more information.
Don't miss out on the holiday music, food, the company and especially the Art this season at Artemis Gallery…
Artemis Gallery 1601 w Main st Richmond va ph ; 254 1755  or  683 5738
Artists represented;
1. Stick Metal people by Don Rea,PA
2. Metallic Art Graphics by John Crutchfield;VA
3. Tea Pots by Noi Volkov;Russia
4. Glass by Neil Duman; VA
5. Face jugs by Tom Phelps; NC
6. Industrial Clocks by Richard Birkett; NY
7. Fused glass by Beatice Keleman; Venezuela
8. Bijoux Graphique Dawn Estrin
9. Glass Paradox; by Amy Rouse; Maine
10. Philipe Desroches metal; France… and many more…