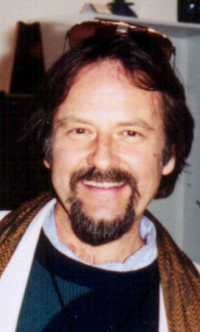 Mr. John T. Crutchfield was born in Sao Paulo, Brazil, brought up in Geneva, Switzerland, and educated in both Europe and the United States. This varied exposure to different cultures developed in him an eclectic and multidimensional view of art and life. This can be seen in his works ranging from neatly crafted earrings to space age sculpture cuffs, that have been exhibited in a wide range of shows from art and craft exhibitions to prestigious galleries, and now on the internet.
In the past decade he has maintained a dialogue with some of the most important artistic ideas of our time, including rephotographing images generated by computers, appropriating jewelry's preciousness so that it incorporated the late twentieth century values of media transformation. Not only has Mr. Crutchfield invented a new way of making stunning and appealing jewelry, but he has also used it to comment on the ways that our world has been mediated by technology.
This multi-dimensional graphics technique applied to brass metal with fiberglass was developed by Mr. Crutchfield. This process consists of computer graphics, inlaid strips of glitter, prism, and marbled paper, and a unique photo image transfer technique. It allows a wide range of exciting graphic designs, creating a whole new dimension in contemporary jewelry, sculpture, and clocks.
Mr. Crutchfield's work includes a variety of wearable art forms: earrings, bracelets, pins, belts, buckles, string ties, and necklaces. New additions to this collection include: clocks, frames, boxes, switchplates, sculptures, and knives. Rich colors combined with incisive designs produce an effect that wakes people up, and challenges their concept of what is wearable art.
In the end each piece gives a unique feeling to it's owner!