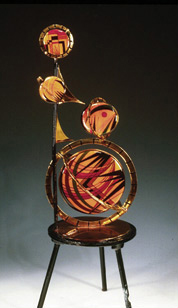 Exhibiting nationally and internationally, John T. Crutchfield has produced graphic designs in mixed media fiberglass on brass for the past 25 years. These custom-made works of art consist of an unique amalgamation of advanced graphic designs and linear application of intense colors on a high quality brass base. The artworks are then cast in a durable clear fiberglass encasement. The purpose of these designs is to evoke the inner desires of one wishing to escape from the present to explore the past civilizations of ancient Egypt, Greece, and Persia, to get lost in a famous Da Vinci painting, or to fall into a bed of roses. To achieve these results, John draws on his influences from his studies in Europe. He aims to craft one of a kind pieces that transport the individual beyond reality into a world of grandeur and imagination.
John's detailed creations range from jewelry fit for a woman of any age to switchplates, clocks, and sculptures that can adorn any living room or office. Each work of art is hand-made to fit the desires of the customers. Metallic Art Graphics incorporates a number of different images in the graphic design of each piece. The customer may choose their own personal design from the color chart and the shape chart, which can be found on our website.
During the year, John can be found at a number of fine art shows all across the country. His work has been photographed, written about, and showcased in several galleries including the Amsterdam Whitney Gallery in New York and the Artemis Gallery in Richmond, VA. John hopes to continue creating imaginative art.