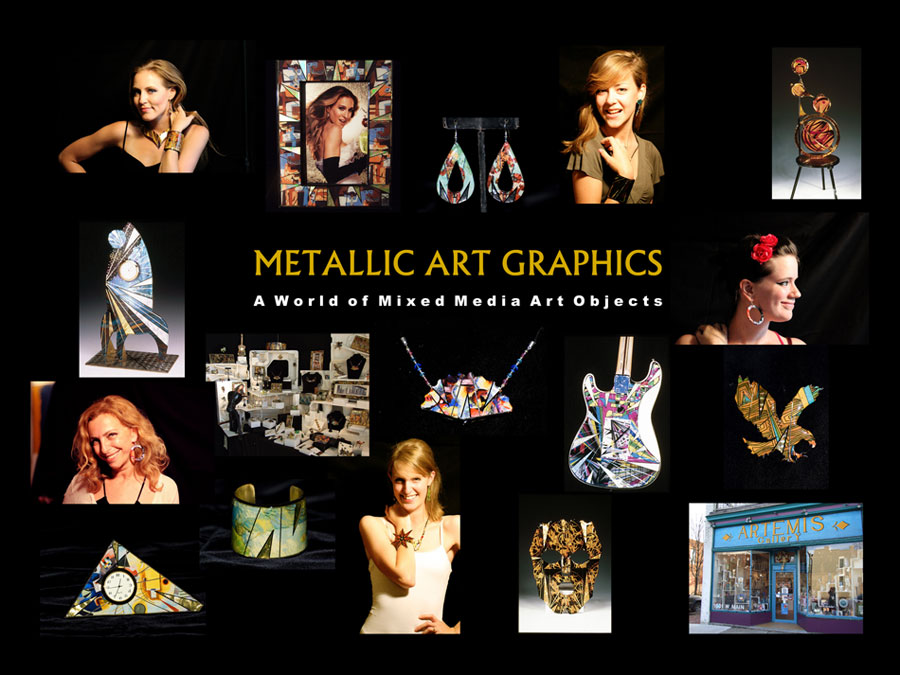 Unique and Custom Designed Art
This multi-dimensional graphic arts technique applied to brass metal with fiberglass was developed by John Crutchfield. The process consists of computer graphics, inlaid strips of glitter,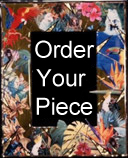 prism, and marble paper, and a unique photo image transfer technique. It allows a wide range of exciting graphic designs, creating a whole new dimension in contemporary jewelry, sculpture and clocks! John's work includes a variety of wearable art forms: earrings, bracelets, pins, belts, buckles, and necklaces. New additions to this collection are: clocks, frames, boxes, switchplates, and knives. Rich colors combined with incisive designs produce an effect which wakes people up, and challenges their concept of what is or what is not wearable art.

Call, Email, or Message!
There are many ways to get in touch with Metallic Art Graphics. Call us at (804) 353 – 2676, send us an email, or set up an appointment to meet at our studio – 34 N. Lombardy St. Richmond, VA 23220. Also be sure to check us out on Facebook, Twitter, and Etsy!

A Sample of Our work
Take a look at our Portfolio – there are hundreds of pieces.  This is merely a sample from the past few years.  Included in the portfolio are many types of jewelry, sculpture, furniture, accessories, and much more. Make sure to keep checking back as we are constantly adding more!

Customize Your Piece
Check out the Metallic Art Graphics store and choose a shape. This will be the medium on which your graphic will be placed. Browse through the graphics we offer. Select a metal inlay color – silver or gold – and you've created your own custom piece of art!